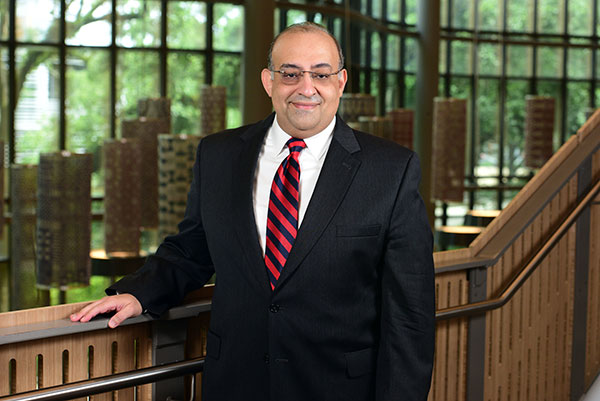 Sherif A. Ebrahim
Professor of Practice
Biography
Dr. Ebrahim brings more than 30 years of high-profile chief executive and professional experience to his work at Tulane. Among other accomplishments, he is a board-certified health care executive, the president and CEO of Strategic Management Group, and managing partner of SMG Capital. Throughout his career, he has owned 24 businesses, and he draws on his experience in corporate strategy and healthcare to inform his work.
Dr. Ebrahim has worked has advised U.S. Presidents, Governors, and has worked as a CEO in high growth environments such as large multinational firms, health systems, and private family enterprises to create intelligent organizational innovation resulting in systemic sustainable long term benefits to organizations, their stakeholders and the community.
Courses
Professor Ebrahim teaches Health Policy, Global Leadership - European Union, Health Care Strategy, Managemnt of Technology & Innovation, Managerial Perspectives, Competition & Strategy, Technology Innovation & Commercialization, and Corporate & Cooperative Strategy.
In his classes, he values the importance of applying both practical and theoretical experience - bringing theory to life and showing its impact on organizations.
Presidential Recognition
Professor Ebrahim's influence has earned national attention. He has been honored at the White House for his professional contributions and he has served in healthcare policy appointments by two U.S. Presidents.
Leadership in the Field
Professor Ebrahim has a long history of contributing his leadership to prominent organizations. He has been CEO, Chair and/or board member of multi billion dollar enterprises, publicly traded, and privately held corporations. He currently serves on the committees of several investment funds. He has also served on several Health Care Policy Task Forces and Committees and advised many CEOs, governing boards, innovators, and organizations on developing successful strategies to achieve sustainable growth.
Service to Tulane
While his contributions extend across many organizations, Professor Ebrahim invests a significant amount of time in leadership at Freeman, including serving as faculty advisor to the Tulane National Business Model Competition, Tulane Entrepreneur Association, and Freeman Consulting Group. He has created and taught many graduate and interdisciplinary courses
Research
"The Impact of Forced Innovation on Its Intended Outcomes," (S. Ebrahim)
White Paper, Small Business and Entrepreneurship Presented to the Board of Governors of the Federal Reserve System, the Federal Reserve Bank of Atlanta, and the Ewing Marion Kauffman Foundation. (2012)
"The Golden Rules of Goal Setting," Strategic Management Group, All Rights Reserved, (2012).
"Goal Setting Mistakes," Strategic Management Group, All Rights Reserved. (2012).
"Cooperative Strategies for Effective Stock Transactions," Strategic Management Group, All Rights Reserved, (2012).
"The Impact of Managed Care on the Appropriate Utilization of Emergency Services," National Association of Public Health (1995).
Education & Affiliations
Ph.D. in Business Administration, Strategy
Watson Graduate School of Management, Spears School of Business, Oklahoma State University
Master of Health Care Administration
Tulane University
Selected Affiliations:
Academy of Management
Fellow, American College of Healthcare Executives
United States Association Small Business and Entrepreneurship
National Science Foundation
CMC Capital
East Jefferson General Hospital Board of Governors
Tulane University Business Studies Public Advisory Board
New Orleans BioInnovation Center Commercialization Team
Gulf Coast Innovation Association, Base Realignment Impact Committee
SMG Capital
Strategic Management Group, Inc.
Developing high functioning organizations that achieve sustainable high growth.